Anonymous: movie review
Was Shakespeare a fraud? That's the premise of 'Anonymous,' which bends history in classic Hollywood fashion.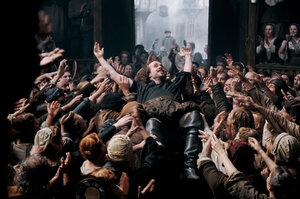 Columbia Pictures
"Anonymous," set inside the nefarious political court of Elizabethan England, is about Edward de Vere, Earl of Oxford (Rhys Ifans), the rightful author of the plays falsely attributed to that nincompoop imposter William Shakespeare.
Full disclosure: I think Shakespeare wrote the plays and this is all hooey. But more on that in a moment. How does the film stand up as a "What if?" historical drama?
Answer: Not too well. John Orloff's screenplay could have used a rewrite by de Vere – or whomever.
The conceit here is that de Vere was too highly placed to reveal his identity and so he dragooned poor Shakespeare (via Ben Jonson, his first choice) into acting as his front. Lest you think that Orloff and the film's director, Roland Emmerich, are content to besmirch only Shakespeare's name, you should also know that Queen Elizabeth herself (played, in a neat bit of then-and-now casting, by the mother-daughter team of Vanessa Redgrave and Joely Richardson) also gets it in the neck. Elizabeth, it seems, was not exactly the Virgin Queen after all. In fact, de Vere was her.... But now I've told too much already.
---
Follow Stories Like This
Get the Monitor stories you care about delivered to your inbox.