Into the Abyss: A Tale of Death, A Tale of Life: movie review
Werner Herzog's 'Into the Abyss' takes a fair-minded look at capital punishment – why people and the state kill.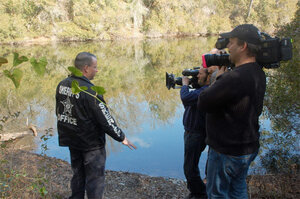 HOEP/Sundance Selects/AP
Werner Herzog's documentary "Into the Abyss: A Tale of Death, A Tale of Life" is framed, in Herzog's own words, as a brief against capital punishment. And yet few films about that controversial subject have been as fair-minded or as generous in the screen time it affords the victims of a heinous crime. "Into the Abyss" does what too few documentaries these days do – it gives ample play to all sides of the argument. Herzog allows us to think things through on our own.
He bases his movie on a 2001 case in a small Texas town in which teenager Michael Perry, with his friend and accomplice Jason Burkett, set out to steal a Camaro convertible from a 50-year-old woman, Sandra Stotler, and ended up killing both her and her 16-year-old son, Adam, and his 18-year-old friend Jeremy Richardson. Perry received the death sentence; Burkett was sentenced to life in prison.
Herzog interviewed Perry in 2010 just days before his execution. At 27, Perry seems much younger than that, and almost preternaturally affable. Herzog interviews a range of participants in the tragedy, including Stotler's family, a death-row chaplain, and Richardson's older brother. What emerges is a vast portrait of immense and perhaps unfathomable complication. The most moving testimony for me was from Delbert Burkett, Jason's father, who himself is serving a life sentence for murder. His woe at the failings of his life, as a man and as a parent, are heartfelt and heartbreaking. Grade: A- (Rated PG-13 for mature thematic material and some disturbing images.)
---
Follow Stories Like This
Get the Monitor stories you care about delivered to your inbox.