'The Girl With the Dragon Tattoo' remake: movie review
A second take on 'The Girl With the Dragon Tattoo,' David Fincher's movie comes across as oddly unoriginal.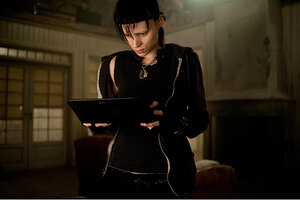 Merrick Morton/Columbia Pictures/Sony/AP
The 2009 Swedish movie "The Girl With the Dragon Tattoo," which ran for 180 minutes in its extended version, was probably more than enough for most aficionados of the Stieg Larsson bestseller. Not so, says Hollywood, which recruited David Fincher to restart the clock. If his film is successful, we can likely expect at least two sequels.
I didn't think the original Swedish film was an instant classic, and the Larsson material isn't exactly holy writ either. There is no inherent reason why this remake shouldn't work at least as well as the Swedish original. And yet, when it was all over, I was hit with the same question I had going in: Why?
Fincher, at least on paper, was the right director for the job. He specializes in sordid, sexualized scenarios in which people are isolated by anomie and brutality ("Seven," "Zodiac," "Fight Club"). As all the world knows, "The Girl With the Dragon Tattoo" is about a crusading, disgraced journalist, Mikael Blomkvist (Daniel Craig), who teams up with pierced and punkish computer hacker Lisbeth Salander (Rooney Mara) to investigate the long-ago disappearance, possibly murder, of the beloved 16-year-old niece of their wealthy industrialist employer, Henrik Vanger (Christopher Plummer), the patriarch of a highly dysfunctional clan.
---