Extremely Loud and Incredibly Close: movie review (VIDEO)
Wrenching and at times exploitive, 'Extremely Loud and Incredibly Close' takes on 9/11 events as seen through the eyes of an 11-year-old boy.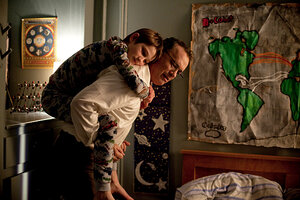 François Duhamel/Warner Bros. Pictures/AP
In the 10 years since 9/11, debates have periodically raged about whether it was "too soon" to make movies about that awful event. "United 93," which came out in 2006, was the official "Is It Too Soon" movie and now we have "Extremely Loud and Incredibly Close," based on Jonathan Safran Foer's bestselling 2005 novel – which was, of course, criticized at the time for being too soon.
I favor the notion that you make a movie when you make a movie and you let the chips fall where they may. There can be no timeline for this sort of thing. "Extremely Loud" has the advantage of a decade-long perspective on the events of that day, but at its most powerful – not often enough, alas – it brings back in a rush all the pain and sorrow.
The film follows a highly precocious 11-year-old New Yorker, Oskar Schell (Thomas Horn), whose father Thomas (Tom Hanks), a jeweler who was visiting one of the Twin Towers on 9/11, is killed during the attack.
Oskar and his father had a wonderfully chummy relationship. His bond with his mother (Sandra Bullock) is more distant.
To make some kind of sense out of the tragedy, Oskar, who narrates the movie, sets himself an impossible mission. Discovering a key in an envelope marked "Black" in his father's closet, he decides to find the lock it opens by tracking down all 472 people named Black listed in all the boroughs of New York.
Most of the time his encounters are brief and dismissive. In a few instances, such as the one involving a woman named Abby (Viola Davis), he finds himself innocently walking in on a domestic crisis.
---