The Iron Lady: movie review
Thatcher biopic 'The Iron Lady' is a sprawling review of the British prime minister's life that may leave supporters and detractors unsatisfied.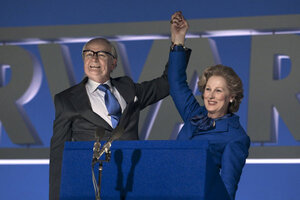 The Weinstein Company
Audiences expecting a hatchet job in "The Iron Lady," the new biopic of former British Prime Minister Margaret Thatcher starring Meryl Streep, are going to be disappointed. Somewhat less disappointed, perhaps, will be Thatcher's supporters. Probably most disappointed of all will be those of us hoping for more than an elegantly mummified, vaguely pro-Tory retelling of Thatcher's life and career focusing on her dotage days.
Yes, I know, Streep is, as always, pitch perfect. Much like her Julia Child in "Julie and Julia," she goes way beyond impersonation. But even Streep can't single-handedly give depth and nuance to a movie so briskly content with skimming surfaces both political and psychological.
"The Queen" and "The King's Speech," the most celebrated British historical dramas of recent years, made the smart decision to frame their narratives within a fairly tight time frame. Within that frame we saw entire lives played out in miniature; there was no need to reach back (or forward) in time because the immediate present vivified everything we needed to know about the characters.
In "The Iron Lady," the framing action begins in 2005 around the time of the London terrorist attacks. Thatcher, having served from 1979 to 1990 as British prime minister before mounting unpopularity forced her resignation, is depicted as a semisenile old woman who imagines her late husband Denis (Jim Broadbent) is still by her side. She also, at various times, imagines she is still equipped with the powers of prime minister.
---