Ralph Fiennes's directs, stars in Shakespeare's 'Coriolanus': movie review
Shakespeare's 'Coriolanus' gets an update in Ralph Fiennes's new production, packed with acting talent.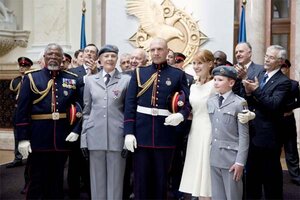 Larry D. Horricks/HONS/The Weinstein Company/AP
"Coriolanus," one of Shakespeare's least-known major plays, is also perhaps the one most "relevant" to today's headlines. Maybe this is why Ralph Fiennes, who directed John Logan's adaptation and stars as the Roman military hero, decided to modernize it so that it summons up Iraq and Afghanistan and other hot spots.
First the good news: Fiennes leads a cast that, at least in the major roles, is uniformly powerful. It's wonderful to hear actors like Brian Cox, Vanessa Redgrave, and Jessica Chastain (yes, she's in this, too), speak these great incendiary lines.
---