This Is Not a Film: movie review
Filmmaker Jafar Panahi's imprisonment in his own home by the Iranian authorities is captured in this extraordinary documentary, 'This Is Not a Film,' which was smuggled out of Iran in a cake.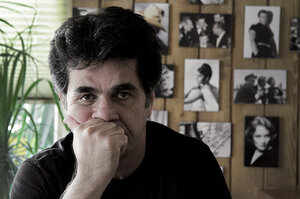 Palisades Tartan
The one-of-a-kind documentary "This Is Not a Film" was shot partially on an iPhone and smuggled into France in a cake for a last-minute submission to the Cannes International Film Festival. Its centerpiece is the Iranian filmmaker Jafar Panahi, who was arrested and imprisoned in March 2010 for "propaganda against the Islamic Republic" in support of those protesting the reelection of Iranian President Mahmoud Ahmadinejad. He received a six-year prison sentence and a 20-year ban from filmmaking.
Released from prison in May 2010 after an international outcry, he was ordered not to direct, write screenplays, give interviews to foreign press, or leave the country. As a postscript to this film, his last appeal was denied last October. According to Islamic Republic laws, he can be arrested and sent back to jail at any time.
In September, Panahi's collaborator, director-producer Mojtaba Mirtahmasb, was prevented from leaving the country to attend the 2011 Toronto International Film Festival, where "This Is Not a Film" was being shown. Along with six other Iranian filmmakers, he was arrested later that month on the charge of "collaborating with the Persian BBC" and was imprisoned for three months.
---