Julia Roberts plays evil Queen in 'Mirror Mirror': movie review
Julia Roberts brings a 'Snow White' fairy tale to life in 'Mirror Mirror.' The plot wanders widely – and creatively.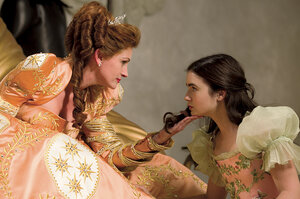 Relativity Media
Of all the Brothers Grimm tales, "Snow White" is second only to "Cinderella" as fodder for films, whether adapted straight up or reimagined almost beyond recognition. Still, while it looks as if there are no Cinderellas due out this year, "Mirror Mirror" is only the first of two "Snow Whites"; "Snow White and the Huntsman" comes out on June 1.
Julia Roberts heads the cast here, not as Snow White, but rather as the queen. (The actress may be plucky, but she's not crazy.) Given that she also serves as narrator, the opening – where her recitation of the back story is illustrated with puppets and animation – suggests that the movie may follow her side of the story, à la "Wicked" and other Gregory Maguire novels.
Soon, however, the focus shifts to Snow herself (Lily Collins, daughter of Phil), who is turning 18 – and has never been outside the walls of the castle. The queen regards her with utter contempt, and at first glance, the audience might as well. She is a timid little mouse: Even her luminous beauty – featuring a complexion white enough to make alabaster look dim – is not an adequate substitute for a personality.
---