The Island President: movie review
Global warming gets personal with 'The Island President,' an inspiring – and dispiriting – look at one man's fight to save his country from disappearing under a rising sea.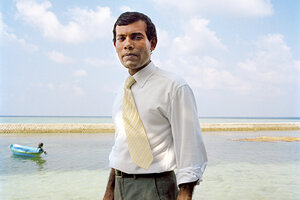 Samuel Goldwyn Films
The documentary "The Island President," winner of the Audience Award at last year's Toronto International Film Festival, is about Mohamed Nasheed, the former leader of the Maldives, an archipelago of some 1,200 islands in the Indian Ocean. For most of us, the Maldives conjure up pristine beaches and superwealthy tourists, but as this film makes clear, the 30 pre-Nasheed years were presided over by dictator and torturer Maumoon Abdul Gayoom, who, among other indiscretions, neglected to deal with the steadily rising ocean levels caused by melting polar icecaps. This meltdown, left unchecked, portends a rather inconvenient national submersion.
Nasheed, who had been tortured by Gayoom, made a pullback in global temperatures his top presidential priority. He filmed public service announcements that included, only half in jest, a board meeting under water in scuba gear. He wheeled and dealed at the 2009 Copenhagen Climate Summit, where we see him fending off global warming deniers and naysaying government representatives (from countries ranging from India to Venezuela) in an attempt to forge an international agreement to lower greenhouse-gas emissions. (Irony alert: This man who rails so strenuously against global pollution chain-smokes his way through the movie.)
---