The Intouchables: movie review
Improbable pairing. You know the rest.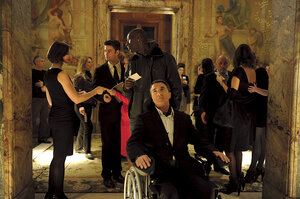 The Weinstein Company
The premise of the French film "The Intouchables" is like a mash-up of "The King's Speech" and "Driving Miss Daisy," with a dose of "Trading Places" for good measure. Philippe (François Cluzet), a white millionaire quadriplegic widower, hires the black ex-con Driss (Omar Sy), who only showed up for the job interview to extend his unemployment benefits, to be his new caretaker.
To nobody's surprise in the audience, Driss and Philippe, after some rocky beginnings, hit it off. Philippe wants a lively companion who won't coddle him or shoot him pathetic looks. He knows he's taking a chance on Driss, a Senegalese native with a history of petty crime, but welcomes the risk.
Driss initially chafes at the down-and-dirty requirements of the job, but inevitably he becomes not just a caregiver but a friend. The two men go out partying; they go to the opera; they even go paragliding (Philippe was paralyzed in a paragliding accident).
It would be easy to take offense at this scenario – just as some people were offended by the supposed Uncle Tom-ism inherent in "Driving Miss Daisy." Movies in which black characters, however nuanced or well meaning, act in subservience to whites, often raise hackles. For me, it all depends on how it's done. "Driving Miss Daisy," for example, may have offered up a stereotypical situation, but Morgan Freeman and Jessica Tandy were anything but stereotypes.
---