Side By Side: movie review
What do advances in tech mean for art?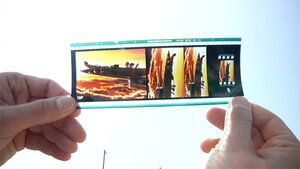 Courtesy of Tribeca Films
Chris Kenneally's fascinating documentary "Side by Side" is about the impact of digital technology on modern-day movie-making. This may sound like a dry subject, but, as presented here, it's anything but – especially if you have more than a passing interest in the art and science of what gets projected onto our movie screens these days.
Featured is an A-list roster of talking heads, including Martin Scorsese, Christopher Nolan, Steven Soderbergh, George Lucas, and James Cameron, as well as lesser-known but no less challenging commentators such as the cinematographer Ellen Kuras, the editor Anne V. Coates (who cut "Lawrence of Arabia"), and the wizardly sound designer and editor Walter Murch. Keanu Reeves, looking more like a scraggly film school grad student than a movie star, is the documentary's host and guide. He asks good questions.
The primary question overhanging everything is: Is film dead? That is to say, is photochemical film, the standard for 100 years, rapidly on its way to being replaced by digital technology? The answer, judging from the evidence on view, is a qualified "yes."
"Side by Side," needless to say, was not shot on film. What this all means for filmmakers and audiences is complicated. On the one hand, even the digital era's staunchest champions (such as Lucas and Cameron) admit that the richness, the grain, of photographic film is preferable to the best image quality that digital technology can currently offer. (One naysayer in the film complains that he's not ready to turn in his oil paints for a box of crayons.)
---