'56 Up' is a telling human saga
'56 Up' checks in on the now-adults who were first captured on film at age 7 in 'Seven Up.'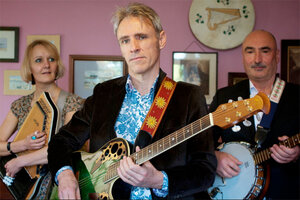 Courtesy of First Run Features
In 1964, Michael Apted, a 22-year-old law student recently graduated from Cambridge, was recruited by Granada TV to seek out 14 seven-year-old children for a documentary about the class system in British society and how it predetermined lives. The show's guiding principle was the Jesuit maxim "Give me the child until he is seven and I will give you the man."
That documentary, "Seven Up" – in which children were selected from the working and upper classes, with fewer girls than boys and the middle class essentially unrepresented – was intended as a one-shot experiment. But Apted ended up carrying the project forward at seven-year intervals, revisiting the original group each time. (One boy, ironically enough a documentary filmmaker, dropped out early on, and a few others fell out and then back in again.) What began as a kind of political tract soon enough morphed into something far more resonant: a long-form epic about the changes that life brings.
"56 Up" is the latest installment in this ongoing odyssey, which by now has taken on a life of its own. Ever since "28 Up," at least, Apted has had to crowd his subsequent editions with the participants' lengthening back stories in order to bring both initiates and uninitiates in the audience up to speed. At 56 and counting, that's a lot of back story, and sometimes the effect is scrunched, with more screen time seemingly devoted to the participants' pasts than to their presents.
But this is unavoidable in a project of such scope, and it also has its advantages. The effect of seeing these 7-year-olds expanding over time into 56-year-olds is almost symphonic at times, as Apted shuttles us between footage shot over those many years.
From a class-conscious standpoint, with few exceptions, that Jesuit maxim has proved true – the working-class kids and the upper-class kids have almost predestined life trajectories. But Apted has moved beyond such simplifications. The "Up" series has its greatest value, I think, as a complex human document, not a reductively political one.
---