'Caesar Must Die' is powerful and moving
'Caesar,' a prison's production of Shakespeare, doesn't sugarcoat the convicts or their incarcerations.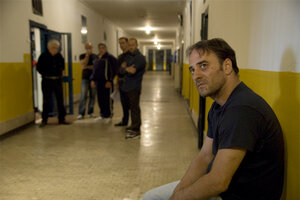 Courtesy of Adopt Films
Prison theatricals are nothing new in the movies – even Mel Brooks's "The Producers" has one – but "Caesar Must Die," a quasi-documentary featuring hardened convicts acting out Shakespeare's "Julius Caesar," is in a class by itself.
Vittorio and Paolo Taviani, the fraternal directing team responsible for more than 60 years for such masterpieces as "Padre Padrone" and "The Night of the Shooting Stars," filmed inside the maximum-security prison in Rebbibia, Italy, a few miles northeast of where the actual Julius Caesar was murdered. The convicts that we see in rehearsal, or in snippets from the final production, are performing a paraphrased, slimmed-down version of Shakespeare, and yet the lethal passion of the play comes through as surely as if we were watching a production at the Old Vic.
"Caesar Must Die" is one of the strangest films I've ever seen. We watch the actors rehearse under the direction of non-inmate Fabio Cavalli, who has been staging theatricals for years with the prisoners; but we are also privy to the actors' lives offstage, or between recitations, and these scenes, too, are staged. And yet the scenes are presumably drawn from real-life confrontations, such as the moment when two prisoners break character and a private spat suddenly becomes a public rumble.
What makes these sequences – indeed, the film's entire conception – so powerful is that these men are the real deal. The Tavianis (both are in their 80s) do not attempt to sugarcoat the convicts or their incarcerations.
Early on we are shown the actors' auditions, and, as if to arrest our sympathies, the filmmakers slap onto the screen the prisoners' rap sheets: drug trafficking, mayhem, and, in some cases, murder. Many of the men are mafiosi. Such are the redemptive powers of art that, even knowing all this, we can't help but be moved by the intensity of some of the performances.
---