Weekend box office: '2 Guns' soars ahead of 'The Smurfs 2'
Weekend box office results: The action film starring Mark Wahlberg and Denzel Washington, '2 Guns', took the top spot, while 'The Wolverine' stayed at No. 2. The weekend box office wasn't such a good place for 'The Smurfs 2,' which opened below expectations.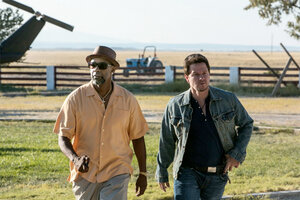 Patti Perret/Universal Pictures/AP
The action-packed "2 Guns" is No. 1 at the weekend box office.
The Universal film starring Denzel Washington and Mark Wahlberg pulled the trigger to capture the top spot with $27.4 million, according to studio estimates Sunday.
The picture is based on a graphic novel of the same name and features Washington as a DEA agent and Wahlberg as a Naval Intelligence officer who must team up for an undercover operation involving drug traffickers and the CIA.
Nikki Rocco, head of distribution for Universal, said "2 Guns" opened at the studio's expectations and attributed the film's success to Icelandic director Baltasar Kormakur and the first-time pairing of Washington and Wahlberg.
"It was super casting," she said. "There was remarkable chemistry. The two of them work so well together. You see it on screen. Baltasar really gave them the energy to be able to do what they did in this film."
Fox's Japan-set superhero flick "The Wolverine" starring Hugh Jackman as the clawed warrior scratched out the No. 2 spot with $21.7 million in its second weekend, bringing the Marvel icon's total domestic haul to $95 million. "Wolverine" earned another $38.5 million in 67 international territories.
"The Smurfs 2" launched in the No. 3 position with $18.2 million. While Sony's kid-friendly computer-generated sequel based on the blue-hued cartoon franchise debuted below expectations in North America, "Smurfs 2" earned a bright $52.5 million in 43 international markets.
---