Appreciation: the lyrical works of an Indian master
An ongoing project aims to preserve and restore the work of the director Satyajit Ray.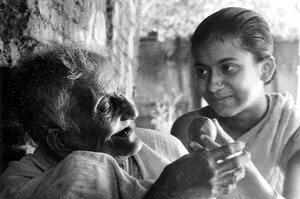 Courtesy of the Academy of Motion Picture Arts and Sciences
In 1992, the great Indian director Satyajit Ray, in rapidly declining health but characteristically gracious, received an honorary Academy Award while in his hospital bed as all the world looked on. He died soon afterward.
Because it became apparent to the academy at that time that many of Ray's films were in dire need of preservation, the Academy Film Archive's Satyajit Ray Preservation Project, in collaboration with the National Archives of India; the Satyajit Ray Film and Study Center at the University of California, Santa Cruz, founded by the indefatigable Dilip Basu; and several other foundations, was born. The ongoing goal is to preserve and restore all 28 of Ray's feature films and seven short subjects and documentaries. Eighteen of those features, plus one short, have thus far been preserved. (The honor roll for this project includes David Shepard, Michael Friend, Michael Pogorzelski, and Josef Lindner.)
This is a cultural mission of the highest importance; beginning Sept. 6 with the first two films in "The Apu Trilogy" (the third screensSept. 9), audiences will have the rare opportunity to see on the big screen all 19 of the currently restored Ray films, first at the Samuel Goldwyn Theater in Beverly Hills and then continuing Sept. 21 through Oct. 21 at the American Cinematheque's Aero Theatre in Santa Monica.
There is every expectation that these films will be screened in other cities. But if you are anywhere close to Los Angeles this fall, why wait? (In London, a restored Ray series is already in progress courtesy of BFI Southbank; in December and January, the Austrian Film Museum will be screening archive prints.) If you can't make it to Los Angeles, know that many, though by no means all, of Ray's best films are available on DVD, most recently two magnificent ones, "Charulata" and "The Big City," both from Criterion.
---