'Prisoners' is too obvious with its message
'Prisoners' has sophisticated visuals and performances but the script is patchy and strewn with red herrings.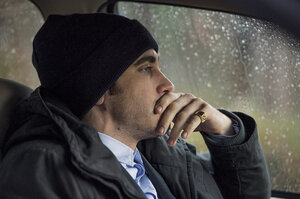 Warner Bros. Pictures/AP
The big problem I have with most violent movies is not the violence itself but the failure to show the consequences of that violence. Whatever else might be wrong with it, this charge certainly cannot be leveled at "Prisoners," which is all about the consequences of violence.
On an overcast Thanksgiving in rural Pennsylvania, two neighboring families are having a cozy get-together. Among them are Keller Dover (Hugh Jackman), a carpenter with a strong survivalist streak; his wife, Grace (Maria Bello); and their 6-year-old daughter, Anna; they are being hosted by Nancy and Franklin Birch (Viola Davis and Terrence Howard) and their 7-year-old daughter, Joy.
At dessert time both girls, who had been playing outside, are suddenly nowhere to be found. The panic-stricken parents reach out to the local police, headed by lead investigator Detective Loki (Jake Gyllenhaal). The only clue: a mysterious camper that had been parked nearby where the girls were playing.
Director Denis Villeneuve and screenwriter Aaron Guzikowski set the stage for a whodunit, but their ambitions are higher. The doomy dread, shot in lustrous monochrome by Roger Deakins, coupled with the film's Christian fundamentalist undercurrents, speak to something more implacable – a free-floating unease that won't necessarily be dispelled when the mystery is solved (if it ever is).
On a purely technical level, and in terms of what he accomplishes with the actors, Villeneuve (a Canadian who was acclaimed for the Oscar-nominated "Incendies") does a lot of things right. He keeps the tension level high without turning everything into "CSI: The Boonies." But the patchy, red herring-strewn script is at war with the sophisticated visuals and performances.
---