Joseph Gordon-Levitt discusses his first directing gig, 'Don Jon'
Joseph Gordon-Levitt has appeared in films such as 'The Dark Knight Rises' and 'Lincoln' but makes his directorial debut with the movie 'Don Jon,' in which he also stars.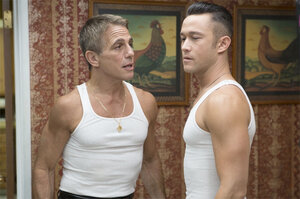 Daniel McFadden/Relativity Media/AP
When Joseph Gordon-Levitt was 12 years old and shooting "Angels in the Outfield," one of his co-stars, Tony Danza, asked him if he'd like to hang out during some down time.
"No," replied the boy, who had more serious plans. "I have to go follow the director around."
Danza breaks into laughter telling the story, because it's that same ambitious youngster, now 32, who's given him his latest movie job. Danza plays the father in "Don Jon," Gordon-Levitt's directorial debut. Which he also wrote. And stars in.
"What can I say? He's a guy with a strong vision, and real self-assuredness," Danza says. "I'm really proud of the kid."
You can forgive Danza for calling his director a "kid." Because, despite his long resume, which includes working with some of Hollywood's top filmmakers in movies like "Inception" and "The Dark Knight Rises" (Christopher Nolan) and "Lincoln" (Steven Spielberg), Gordon-Levitt still looks in many ways like, well, a kid. Just like the kid (er, alien posing as one) he played on "3rd Rock From the Sun," with a boyish face that, if not grinning, always looks like it's about to.
Which is one reason audiences may be surprised at the choice he made for his debut: a dark, edgy comedy about porn addiction — a film that had to be carefully edited to avoid an NC-17 rating. Not only is "Don Jon" not a safe, traditional romantic comedy, it's a movie that provocatively suggests that those romantic comedies are just as addictive and destructive to real relationships as porn.
But if you think tackling such a heavy subject – and in such a high-profile way — made Gordon-Levitt even a little insecure or nervous, think again. Talk about self-assured: We're quite sure he's one of the only movie stars to invoke the name of late philosopher Martin Buber while promoting a film.
---