'The Counselor' has impressive performances but a confusing plot
'The Counselor' boasts an excellent cast, but the story based on Cormac McCarthy's screenplay isn't always easy to decipher.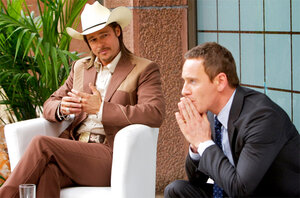 Kerry Brown/20th Century Fox/AP
Somewhere deep into "The Counselor," I found myself mesmerized by a metaphysical monologue from one of the characters – someone who sounded strikingly similar to my college philosophy professor – and trying to figure out exactly what he meant, and how it related to the person he was saying it to.
But then I realized I had more basic questions, as in, wait, who IS this guy? Where did he come from? Did I miss something?
If that kind of experience would bother you, be forewarned. There's lots and lots of talk in Ridley Scott's latest film, which boasts a high-powered cast and also the first original screenplay by author Cormac McCarthy. But that talk doesn't always clarify what's happening onscreen. Sometimes, it seems like it's coming from another movie, or somewhere else entirely.
One connection that will be obvious to all, though, is with "No Country For Old Men," the 2007 Oscar winner based on a novel by McCarthy. That film also dealt with the harsh Texas border region and a drug deal gone wrong – way, way wrong – and the violent consequences of greed and foolish risk. It also featured Javier Bardem in a crazy haircut.
Here the haircut is different – spiky, and accompanied by rose-tinted shades and a wardrobe favoring paisley — but Bardem is still entertaining (has he ever been less than totally charismatic?) It is he who easily scores the biggest laughs of the film. Laugh hard, because from there, the story gets grim.
---