In Peru, Novalima bangs the drums of change
By updating traditional Afro-Peruvian music, the band is mainstreaming black culture in the racially divided nation.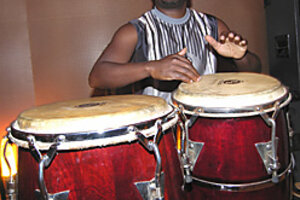 Nina Roberts
Inside a wisely soundproofed studio, where Afro-Peruvian group Novalima is recording a new album, frenzied hands beat congas, bongos, and a drum set with cowbells. Sitting atop cajóns, percussionists pound on the crate-like instruments in between their legs, singing into microphones. Elsewhere in the cramped space, musicians behind laptops, keyboards, and mixers concoct bass-heavy beats as singer Milagros Guerrero bobs to the music, microphone in hand. Her velvety voice may have a melancholic gravity, but it floats effortlessly above the boisterous rhythms.
What's wholly remarkable about Novalima's music is both the unexpected fusion of traditional Afro-Peruvian music and electronica, and the effect it's having on this multiethnic, yet polarized, nation. Afro-Peruvians have long been largely marginalized – blacks comprise just 3 percent of the population – and accounts of racism are common here. Yet, Novalima, a nine-piece that also includes musicians of European and Chinese descent, is giving Afro-Peruvian culture a very public face both at home and abroad.
"The value of Novalima is that young people see hands of all colors playing Afro-Peruvian rhythms," says photographer Lorry Salcedo, who has extensively documented Afro-Peruvian culture. "Novalima is making this incredibly creative music accessible to young people, and that is very positive."
---