A drama teacher stages a revolution inside a school – and galvanizes a town
In Mississippi, M.J. Etua helps students look outside their own world as they participate in a competition against better-funded programs.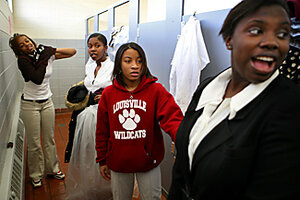 Melanie Stetson Freeman - staff
The first time Autrianna Thames climbed on a stage, her heart almost burst clear through her chest. She sweated, shook, and swayed; she spat out her lines in a tangled knot.
But sitting in an emptied classroom at Louisville High School, surrounded by three classmates, Ms. Thames remembers that performance as revelatory – a moment when she realized she "belonged in front of an audience."
"It's sort of an empty place in you that gets filled in," says Chris Rash. "The day of our first class, I went home to my mom, and said, 'I know what I want to do with the rest of my life.'
"She said, 'Chris, why do you always have to pick the expensive hobbies? What's wrong with football?' "
In this small, working-class town, 100 miles northeast of Jackson, there's never been much room for theater. Students generally drift toward a nearby technical college after graduation – if they graduate at all – and then back to Louisville to find work in one of the local factories. Poverty levels are high; the educational focus is on practical trades, from accounting to computer sciences.
That's started to change. The catalyst, say students and administrators, is a young drama teacher and actress named M.J. Etua, who arrived at Louisville High in 2001, with the intent of jump-starting the school's drama program.
In November, Ms. Etua's original, one-act play, "He Calls Me By the Thunder," was nominated for a regional competition in nearby Starkville. Against all odds, the Louisville troupe won that competition and, last week, shuttled to the statewide festival in Hattiesburg to square off against a score of more experienced, better-funded programs.
---