Trend spotter: Amateur songwriters for Obama
The Illinois senator is inspiring unknown musicians to compose their own odes to the presidential candidate.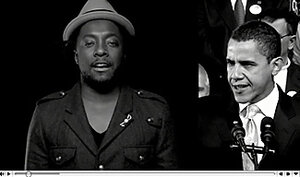 courtesy of dipdive
It took just two days for Miguel Orozco to compose the corrido "Viva Obama." Less than a week later, in time for President's Day, he'd found a mariachi band to record the song, produced a video, and posted it online.
The rush? He wanted it heard in the run-up to the March 4 Texas primary. Orozco's swift turnaround and facility with rhyming in Spanish aside, the head of a Los Angeles media company says he's not a songwriter: "I just felt, well, I am inspired by Barack Obama."
Before "Viva Obama," Mr. Orozco's songwriting repertoire included only "Obama Reggaeton," which he wrote to rally young Latino voters behind the presidential candidate as part of his one-man outreach campaign, Amigos de Obama.
It's no surprise that "artists inspire other artists," says Chicago Sun-Times music critic Jim DeRogatis. But not in his lifetime has the veteran newspaperman seen someone with Obama's oratorical abilities. "He inspires people to express themselves in their talents in the way that he obviously does as a rhetorician."
---