For an Iraq war veteran, new play is a personal odyssey
When Melissa Steinman was picked as an adviser to a topical play, it aided her postwar recovery – and helped other veterans, too.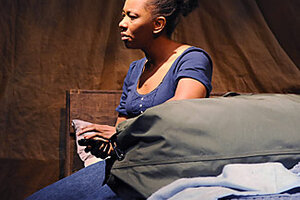 courtesy of david cooper/oregon shakespeare festival
When Melissa Steinman came home from Iraq at the end of 2004, she had a lot on her mind. Mainly, how to re-adjust to civilian life after nearly a year in a war zone.
The transition has not been easy. It has included participation in a trauma-rehab program at a nearby US Department of Veterans Affairs (VA) facility.
What she didn't anticipate was that the healing process also would involve playing an important part in the world première of a play about an Iraq war vet. That production, "Welcome Home, Jenny Sutter" by Julie Marie Myatt, is now in performance at the Oregon Shakespeare Festival (OSF) here. In July, OSF's cast and crew will take the play to the Kennedy Center in Washington, D.C.
Ms. Steinman's behind-the-scenes role is as military adviser to the dramaturge, design team, and cast of six actors. In the war, she had been a US Coast Guard petty officer in charge of armed patrol boats guarding US Navy ships, port facilities, and other "high value assets." She doesn't talk a lot about the work except to say, "My job was to put my boat between the bad man and the people or things I was guarding."
---