Noteworthy: The best in recent kids' CDs
From Brian Setzer's orchestral fun with classical music clichés to a Parents' Choice Award winner by Dr. Noize, these albums will delight young ears.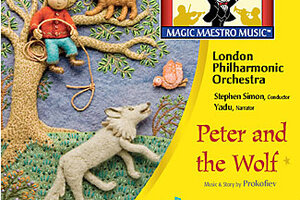 Dr. Noize – The Ballad of Phineas McBoof
Pity Phineas McBoof. Exhausted by his fame and fans, the "musical King Kong" has disappeared, and only his International Band of Misunderstood Geniuses knows how to find the iconic monkey. It's a familiar tabloid tale, as seen through the lens of a kaleidoscope rather than a paparazzo's camera. Loaded with witty narration and some creatively impressive tunes, the CD has launched a book by the same title and a sequel is due. Recipient of a 2007 Parents' Choice Award, it goes without saying that the album also wins the prize for best title of the year.
Stephen Simon, London Philharmonic Orchestra – Stories in Music: Peter and the Wolf
After creating musical lessons around "Mike Mulligan and His Steam Shovel" and "Juanita the Spanish Lobster," it's actually a little disappointing (though not surprising) that Stories in Music has done its own recording of Sergei Prokofiev's childhood warhorse. The Russian composer knocked out this orchestral story in two weeks, but the tale of how a small boy defeats a big, bad wolf remains one of the most effective ways to introduce instruments and their sounds to small ones. While Sir Alec Guinness, for me, remains the gold standard in narrators, this new recording has a lot to recommend it by way of educational extras. Russian folk music, a listening lesson taught by Maestro Stephen Simon, and a brief biography of Prokofiev all whisk briskly and authoritatively along.
---