Prague's soundtrack factory
Skilled musicians – and favorable economics – lure filmmakers to this ad hoc symphony for new scores.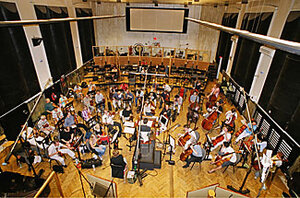 courtesy of tadlow music limited
A procession of Roman Legion-looking riders, with helmets and colorful flags, gallops over an open plain as the orchestra music builds to a crescendo. As the scene changes, two lovers (Charlton Heston and Sophia Loren) look into each other's eyes. The riders appear over the horizon, and ....
"Stop there, Nic," says James Fitzpatrick. "Can we do bars 99 to 105 again, please?"
Mr. Fitzpatrick counts the bars carefully on his score of the 1961 movie "El Cid" – back to the main love theme, where the violin solo soars above the orchestra.
Conductor Nic Raine's voice comes through speakers in the production booth. Fitzpatrick looks back and forth between the movie, paused on an oversized flat-screen TV, and the music, making sure he coordinates violin solo with scene.
Recording soundtracks is all in a day's work for Fitzpatrick, owner of Tadlow Music, a recording company based in London. He routinely hires a complete orchestra from the list he keeps of 600 or so top-notch classical musicians in the five symphony orchestras here in Prague.
Hollywood, too, has come calling, lured by favorable economics and talent.
---