All the world on stage
New International theater festival in California offers audiences a window on foreign cultures – and shared stories.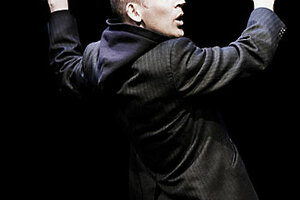 courtesy of ros kavanagh
Just north of the Los Angeles county line the air feels, well, different. It's the same ocean breeze blowing in, but the atmosphere of the lush hills of L.A.'s northern neighbor seems more relaxed than the hurly-burly of Tinseltown. It's a perfect setting for creative ferment, say organizers of the Rubicon International Theatre Festival (RITF), which opened July 12 and runs through July 27. The only true global stagefest in the United States (others such as South Carolina's Spoleto include music and art), this preview season offers four US premières and works from Ireland, South Africa, Israel, and Ivory Coast.
"It's way past time," says Edgar Rosenblum, executive director of RITF, who adds, "Given the urgent need for people to understand one another from culture to culture, theater has an important role to play in telling those stories."
---