Opera reaches for new scale
Old art form is flourishing in US as new opera companies open and works are premiered.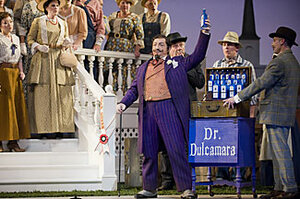 Courtesy of Terrence McCarthy/San Francisco Opera
Teenagers in motley dress ranging from elegant party frocks to droopy jeans mill around the front entrance to the opera house in downtown San Francisco, awaiting the final dress rehearsal of the company's "Elixir of Love."
It's High School Night at the opera, a charmingly civil effort to bring the city's youth to its deepest cultural fountain, in the hope they will drink and enjoy. In fitting, grand opera tradition, this tableau plays out against a larger scrim of bad news in the opera world: Opera Pacific just ceased operation, Michigan Opera Theatre canceled the final show of its season, and New York City Opera just lost its cutting-edge new Belgian artistic director for lack of funds. Companies from New York to San Francisco are embracing everything from cheaper costume fabrics to fewer lights to cut costs.
But, say most opera watchers, there has rarely been a time when this most famously expensive art form didn't dance with financial disaster. The current woes mask a much larger and more meaningful story about the changing place of this 409-year-old European art form in American life, says Dana Gioia, departing chairman of the National Endowment for the Arts (NEA). "Opera has come of age in the United States," says Mr. Gioia.
---