Latin music: Salsa, merengue, and samba rhythms come to the concert hall
Latin music influences – including salsa, merengue, and samba – are seeping into the concert hall as directors seek to broaden the appeal.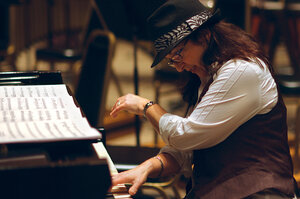 Courtesy of Manolo Santana
From salsa to merengue, mambo, samba, and tango – not to mention the current reggaeton – Latin rhythms and melodies have been spicing up popular music for years. But now the infectious, downright hip-swinging, finger-snapping, and foot-stomping influences of folk and popular traditions from every corner of Central and South America are turning up in concert halls, played by symphony orchestras all over the United States. From Honolulu to Westfield, Fort Worth to Indianapolis, and Miami to Los Angeles, works with poetic titles such as "Los Caminos del Inca," "Dos Visions," and "Peregrinos" are being played by classically trained ensembles. These are orchestras whose programs have more often featured Beethoven, Brahms, and Bach than Chavez, Mauleón, and Ginastera. But with symphonies struggling to find new audiences as the ranks of traditional concertgoers thin, what began as a trickle is becoming a flood.
---