One man's musical tribute to Bernstein's genius
Hershey Felder performs the one-man musical play "Maestro: the Art of Leonard Bernstein," a tribute to the multitalented icon of American music.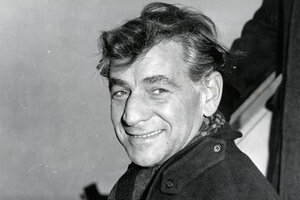 Newscom
It is rare to find an artist with the sensitivity and technical tools to develop a musical play in which most of the narrative is delivered while playing the piano, sitting at the piano, or singing at the piano, all, of course, while embodying a historical icon.
But this is the task of actor/musician/playwright Hershey Felder, tackling Chopin, Beethoven, and Gershwin – to audience and critical acclaim. Felder performs at The Geffen Playhouse, an intimate Los Angeles cultural hub, in his latest project, "Maestro: the Art of Leonard Bernstein."
Felder once again manages to encapsulate a titanic figure and an epoch of American music in 90 minutes – despite his own sober assessment that "you can't capture a life in an hour and a half."
Like previous musical plays, the sprawling narratives of his characters' lives take a backseat to the musical narrative. Felder claims the only way to tell Bernstein's supersized, turbulent story, is through the music. "It's the most direct and the most honest way," he says.
Felder himself is uncannily equipped to bring this giant of the American musical world to life; his array of abilities (pianist, playwright, composer, actor, singer) amount to the ideal tool kit for this singular brand of storytelling.
---