A thoroughly modern opera: Robots enter a new frontier
Tod Machover's futuristic opera, 'Death and the Powers,' features robots and puts technology in the leading role.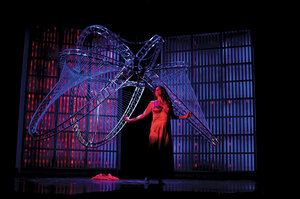 Jill Steinberg/American Repertory Theater
The controversial new Broadway show "Spider-Man: Turn Off the Dark," beset by accidents and technical glitches, has pressed the limits of putting technology on stage.
But a new opera comes to the intersection of technology and the performing arts from a different angle: How can we use technology to tell a story about how humans relate to their technology?
"Death and the Powers," which has its North American première March 18 in Boston, fills the stage with nine semi-autonomous "opera bots," as well as huge moving, flashing walls and a chandelier whose strings both seem to speak and respond to touches from a human performer.
But all this technology, some of the most sophisticated to be found on any theatrical stage, is in the service of telling a very human story. The opera's plot centers on an entrepreneur and computer genius, Simon Powers, who has had enough of life in a fleshly form and has decided to download his "self" into "The System," living on in a purely digital form. His third wife, daughter, and adopted son must cope with this startling turn of events. Should they join him in a digital existence?
This familial drama takes place as a play within the play. The opera is set sometime in the future when humans, for reasons left unexplained, no longer exist. But Simon's robots have been charged by him with reenacting a human drama in order to learn more about humans, to gain a grasp of concepts such as death. Temporarily, they transform themselves into human form and enact the drama of the Powers family.
"Is that the meaning of this 'Death' – data rearranged?" asks one robot in the opera's prologue.
"What is suffering? How can I perceive/ What I cannot feel?"
Asks another: "What can we learn? What can we gain,/ From inferior matter?"
Simon responds:
---