Bonnaroo: What music legend will headline the 2013 festival?
Bonnaroo revealed it would be something of a British invasion as festival organizers announced the lineup. Bonnaroo will be held in Manchester, Tenn.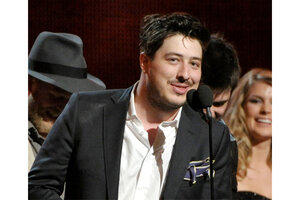 John Shearer/Invision/AP
There will be a British invasion of the main stage at Bonnaroo this year.
Paul McCartney and Mumford & Sons are among the headliners for the 2013 Bonnaroo Music & Arts Festival in Manchester, Tenn.
The four-day festival, held on a rural 700-acre farm, always features an eclectic roster, but the June 13-16 event is even more varied than usual.
Returnees Tom Petty & the Heartbreakers also hold down a headliner spot. Then things get a little crazy with R&B star R. Kelly, alternative queen Bjork and Wu-Tang Clan celebrating its 20th anniversary. Wilco, Pretty Lights, The Lumineers, The National, The xx, Kendrick Lamar, A$AP Rocky, Nas and ZZ Top also top the list announced Tuesday by "Weird Al" Yankovic via Bonnaroo's YouTube channel.
Tickets go on sale at noon EST on Saturday.
McCartney, the former Beatle and recent frontman of Sirvana, will be making his first appearance at the event.
---