Rolling Stones musicianship shines through stage flash
In Chicago Friday night, the Rolling Stones performed a show that was much more revitalized and lean than any of their mega-blockbuster extravaganzas in recent decades.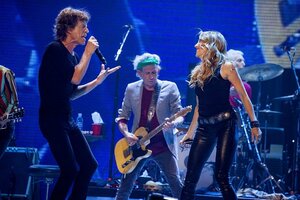 Barry Brecheisen/Invision/AP
Before the band took the stage, a video played, revealing clips of famous faces telling the audience why the Rolling Stones – a band now in its 51st year – is worthy of our attention after all this time.
"Kind of dangerous," said filmmaker Martin Scorsese.
Oh, really.
The Stones didn't need the endorsements, nor did they seem to play a show that reveled too much in self-serving accolades. Instead, the band, which played the United Center in Chicago Friday, the second of a three-night engagement that ends Tuesday, performed a show that was, in many ways, much more revitalized and lean than any of their mega-blockbuster extravaganzas in recent decades.
To be sure, the hit machine did due diligence – the customer is always right when they pay more than $600 for a seat. But along the way, the band seemed to have paused when it came to the requisite shenanigans of the past (pyrotechnics, inflatables, an army of auxiliary players) to create a show that was, instead, one that thrilled through ample musicianship.
The Rolling Stones embarked on this tour late last year to celebrate the 50-year milestone, a party that continues to roll this summer in North America and Europe.
For veteran bands of their era, mining the past for fresh incentives to tour is not new; what makes this road show unique, especially for the Stones, is how it leans back to emphasize, not just what makes them familiar after all these years, but what makes them endure.
The approach brings focus to Mick Taylor. The guitarist only spent five years in the band, but they were an essential five years: the golden period of creativity between 1969 and 1974, when Mr. Taylor's contribution as a virtuoso guitarist created both inspiration and competition within the band.
Taylor's reunion with his bandmates amounted to almost a third of the two-hour, 30-minute show, and each stepping out rotated the stage immediately into his direction.
For someone with an apparently lax stage personality, Taylor took command of the stage each time he appeared, as the band seemed to huddle around him for cues.
---