It's been a very good year
Groups like Foxygen and Daft Punk and singers like Justin Timberlake and Kacey Musgraves have made the first half of 2013 a great time for music.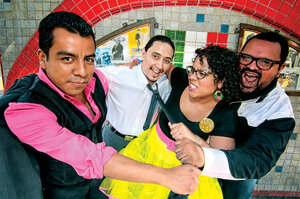 Humberto Howard
If the first half of 2013 is any barometer, this is going to go down as one red-hot music year. Though the demise of the powerful record company model has dimmed fame and fortune for aspiring artists, music fans have reaped the benefits. Musicmaking has been freed! Not since the 1960s has the variety of songwriting and sonic landscapes been so vast, with plenty of room for all comers.
The big albums of 2013 you probably know already. Justin Timberlake's The 20/20 Experience is a sophisticated, sexy dance-floor smash, like the man himself. Staying on the dance floor, Daft Punk returned with an irresistible retro/disco single, "Get Lucky," and an aptly titled album, Random Access Memories, which is bound to bring on a case of Saturday night fever.
Breakout singer/songwriter/wild child Kacey Musgraves stands apart from the overproduced Nashville grist with a clear-eyed, defiant take on life as a country girl on Same Trailer, Different Park. It's an instant classic, first note to last.
Vampire Weekend released their third magnificent album, Modern Vampires of the City, with breathtaking songcraft and sparkling production. Lead singer/writer Ezra Koenig's witty, knowing lyrics set a mighty high bar for any band to follow.
---