TV dramas' foreign accent
This fall a quarter of the new dramas will be adaptations of shows from overseas.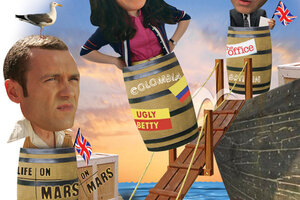 Scott Wallace
As the broadcast television networks face rising costs and dwindling audiences, studio executives are scrambling for new ways to cut expenses. Increasingly, they are turning to their foreign counterparts, mining TV dramas, comedies, and unscripted reality and game shows from such faraway airwaves as Japan, Israel, Colombia, and Britain. Of the 24 new shows debuting this fall, 25 percent are adaptations from other nations, according to TV Tracker: "Life on Mars" (ABC, from Britain), "The Ex List" (CBS, from Israel), "Kath & Kim" (NBC, from Australia), "The Eleventh Hour" (CBS, from Britain). Even premium cabler, HBO, is getting into the act with its upcoming adaptation, "Little Britain USA."
"We are having a very different dialogue now," says Nina Tassler, president of CBS Entertainment. "It's a global playground," she says, adding, "even writers and directors are bringing product to us from overseas."
---