Late-night shuffle
New host Jimmy Fallon hopes to attract Net-savvy crowd, but faces stiff competition as comedy field opens up.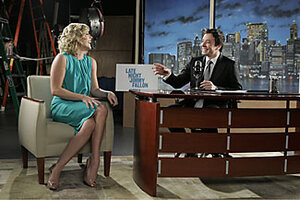 Virginia Sherwood/NBCU Photo Bank/AP
THE TECTONIC PLATES that have held late-night television in place since 1993 began to shift this week. NBC's Conan O'Brien exited his post on Late Night and incoming replacement, comedian Jimmy Fallon, will take over on Monday. Much ink was spilled the last time a cocky comic with an Irish name landed in late night real estate 16 years ago. But the television landscape has altered dramatically since then. Now, say most observers, NBC's primary goal is to stanch the steady loss of viewers from traditional television to other entertainment choices. Whoever fills that final hour is a good measure of where those audiences have gone – and where comedy is headed.
"Comedy is an indication of what time you go to bed," says writer Rob Thomas ("Cupid," "Veronica Mars") with a laugh, "and putting Jimmy Fallon in that time slot is a good sign of what college kids will watch."
The network is clearly targeting "a younger, Internet-savvy demographic," says Mediaweek's TV guru, Marc Berman. His faux dorm-room webcast with Horatio Sanz on Saturday Night Live first put Mr. Fallon in the national consciousness, says Brett Erlich, co-host of the upcoming "The Rotten Tomatoes Show." "That's what Fallon is known for."
---