Discovery launches 'Life' series with Oprah narrating
'Life' series breaks new ground in nature photography using state-of-the-art cameras to film eye-popping natural wonders.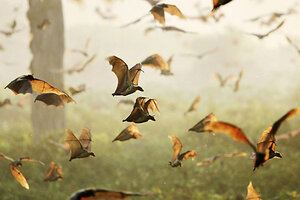 Kieran Dodds/Discovery Channel/BBC/AP
Nature is hot. Just ask the folks at Discovery Channel who have scored no less a celebrity than Oprah Winfrey to narrate their latest blockbuster documentary series, "Life," an 11-part extravaganza that debuts this Sunday at 9 p.m. (EDT).
The program is shot in high-definition and celebrates the truly jaw-dropping, eye-popping natural wonders of the planet, many never before seen. Among them: a fast-paced mating run of 10 humpback bull whales as they pursue a single female and the animal kingdom's most elaborate courtship ritual – the Vogelkop Bowerbirds' creation of fantastic "huts."
This is the latest from the Discovery/BBC partnership that brought first "Blue Planet," then "Planet Earth." This time around, say the cameramen – who actually held their breath beneath the mating humpbacks (no scuba gear allowed since bubbles would disturb the courtship) and camped out for days in remote jungle blinds to capture rare fauna footage – the images take nature photography to the next level. First, and most important, they shot entirely in HD, moving directly from film as in previous collaborations, skipping video altogether. This allowed them to shoot in low-light conditions that were never possible before.
"[The show] has an extraordinary battery of filming techniques," says Mike Gunton, executive producer for the BBC, at a January press event in Pasadena, Calif. For instance, he says, they were able to use state-of-the-art cameras "that you can stick down little burrows or you can put on the end of little poles, to cameras with the biggest telephoto lenses you've ever seen in your life." In addition, he says the team used underwater cameras and cameras in helicopters. One of the goals of "Life" is to show people behaviors and sights "that they wouldn't normally be able to see, trying to give a new perspective, a new insight."
---
Follow Stories Like This
Get the Monitor stories you care about delivered to your inbox.