Oprah: New talk show will take her around the world
Oprah Winfrey's new show will debut in 2011, after 'The Oprah Winfrey Show' closes shop, and will travel abroad to interview guests in their own backyard.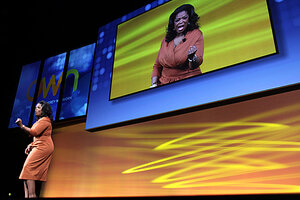 Mary Altaffer/AP
Oprah Winfrey is moving from daytime television to prime time, the talk show host announced Thursday. The new show, titled "Oprah's Next Chapter," is tentatively scheduled to debut in late 2011, around the same time "The Oprah Winfrey Show," her syndicated hit show produced in Chicago, signs off after 25 years.
Ms. Winfrey made the announcement in advance of a presentation in New York this week to potential advertisers. Her new show is considered the flagship of the cable network she and Discovery Networks plan to jointly launch in January 2011. "OWN: The Oprah Winfrey Network" is very likely the first television network based around a single person.
"My name's going to show up on that grid a lot," she told The Wall Street Journal Thursday.
Branding her image is something Winfrey knows something about. She has built an empire upon the two consistent themes of her show: self-improvement and celebrities. Through the years she has successfully launched enterprises into all forms of media with great success. They include: O The Oprah Magazine, Oprah Radio, a channel on XM Sirius Radio, and Harpo Productions, the production company that produces her show and several hit films and television shows.
---