Soap operas: All washed up?
Derided for melodrama and outlandish plots, daytime soap operas have dwindled. But their influence and offspring are turning up in prime time.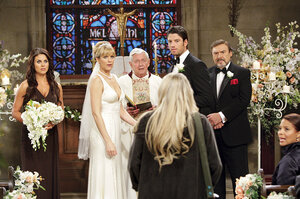 NBC
Soap operas, that staple of the daytime television schedule, have taken it on the chin lately. Two titans of the genre – "Guiding Light" and "As the World Turns," ended impressive runs in the past year. "World," which went dark Sept. 17, wrapped 54 years of fictional history for the folks of Oakdale, Ill. And "Light," which began as a radio show in the 1930s, spanned nearly three-quarters of a century by the time it was dropped a year ago. These departures leave only six daytime "soaps" on the three broadcast TV networks (ABC, NBC, CBS), down from nearly two dozen at the height of demand for the daily serials.
This pullback has led to speculation that the long-running format, often derided for its reliance on outrageous plot twists, too many evil twins, and relentless gossiping, may have run its natural course. The daily, quick serialized story, born and sponsored on radio by soap companies primarily to sell laundry products to housewives at home during the day, has evolved in lock step with the changing lives of that target female audience, says sociologist Lee Harrington from Miami University. "Serialized storytelling has been around for thousands of years but this particular, endless world of people, who could almost be your real neighbors they feel so temporal and all present, is disappearing," she says, as women have moved into the workplace and out of the home during the day.
---
Follow Stories Like This
Get the Monitor stories you care about delivered to your inbox.