American Idol eliminations: Two go home
American Idol judges saved Casey Abrams last week, so two Idol contestants were voted off Thursday. Goodbye Thia Megia and Naima Adedapo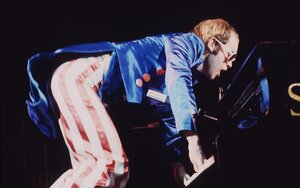 Anwar Hussein/WENN
The judges exercised their one save last week on Casey Abrams, therefore two contestants had to say goodbye Thursday night.
To help calm distraught viewers, American Idol opted to scrap the ultra-corny group sing for smaller, more intimate group performances. To start the night out right, Scotty McCreery and Lauren Alaina performed a country duo of, "I Told You So." Viewers may recall Randy Travis and Carrie Underwood performing this duet on the American Idol stage two years ago.
After their duet, Ryan quickly told Scotty and Lauren they were safe. Nice way to interfere with a prediction trifecta, Ryan.
Jacob Lusk and Naima Adedapo then joined forces for a performance of "Solid," by Ashford and Simpson. Now Lauren and Scotty made sense together ... you could envision them married with a house full of little cowboys and girls sitting around a campfire singing country music. But the Jacob and Naima pairing seemed driven more by racial profiling than any musical synergy. And, as it turns out, Naima wasn't nearly as "solid" as she thought and was the first to be sent to the Bottom Three stools.
---