The reality of fall TV
An upstart genre shows its influence as reality TV dominates the fall lineup and finds its techniques adopted across the TV landscape.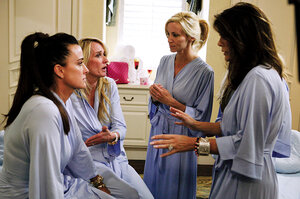 Bravo
While there is a respectable freshman class of scripted TV shows debuting this fall, the real drama is coming from reality TV – both new shows and old. The most anticipated, prime-time broadcast network arrival is "The X Factor," a new talent show from Simon Cowell, creator and former curmudgeon-in-residence judge of "American Idol."
The British talent producer has been quoted as saying he hopes to helm something bigger than his former blockbuster. Over on cable, one of the most successful unscripted programming franchises, Bravo's "Real Housewives," is shadowed by the mid-August suicide of Russell Armstrong, husband of one of the lead cast members of "The Real Housewives of Beverly Hills."
As of press time, the network plans to bring the show back on its scheduled Sept. 5 return date. But the season opener, which featured wife Taylor Armstrong buying lingerie and discussing her troubled marriage, will be reedited along with the rest of the season, according to the network.
This narrative plays out against a TV landscape thoroughly infused with reality TV. Some variation of unscripted programs fill nearly a third of the prime-time broadcast hours in this upcoming season, either returning hits such as "Dancing with the Stars" and "The Voice," or the latest iteration of the granddaddy of the genre, "Survivor: South Pacific."
---