The X Factor heads to North Carolina for some stormy auditions
The X Factor auditions were at the mercy of the elements and one very angry contestant on Thursday night.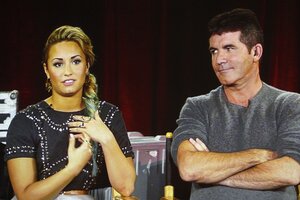 Fred Prouser / REUTERS
During his illustrious career as a judge, Simon Cowell has turned his nose up at more than one contestant before labeling their audition as "indulgent rubbish."
If Thursday's episode of The X Factor was an audition and Simon were being honest, it would suffer the same fate. Between the backstage conversations that sound like the contestants are reading from cue-cards, the totally scripted questions the judges ask contestants, and the toddlers who come dashing out onto the stage and into their father's arms in a victorious celebration of the glory of mankind, each passing episode of the season becomes more implausible and over-produced than the last and considering we're only four in, this is a definite cause for concern.
This is not to suggest that the episodes are void of entertainment. Demi Lovato's "Flock of Seagull's" inspired hairdo, Britney Spears's never-ending stream of bizarre facial expressions and the entire production being struck down by lightening were high points of Thursday's episode. And, to be kind (which I am capable of, thank you very much) The X Factor has managed to excel where American Idol has often struggled: in their handling of bad auditions. Rather than weigh down the episode with awkward, exploitative auditions, The X Factor prefers to air them like a visual buffet; hand-picking only a few to serve as main courses.
---