'Downton Abbey' and other cable offerings beat out network shows
'Downton Abbey,' AMC's 'The Walking Dead' and the NBA All-Star Game on TNT all scored more viewers than anything else airing on network television on Sunday, Feb. 17, when the 'Downton' finale aired. In its third season, 'Downton Abbey' was the most-watched PBS series since Ken Burns' 1990 documentary series 'The Civil War.'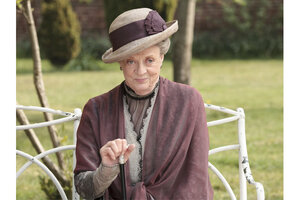 Nick Briggs/PBS/AP
Not everyone liked it, but 8.2 million people watched the finale to the third season of PBS' "Downton Abbey."
Sunday's last episode left many fans up in arms because of the surprise demise of a popular character, unnamed here to protect fans who haven't seen it yet. The show's third season is the most-watched series on PBS since Ken Burns' 1990 series, "The Civil War."
In further evidence of how TV viewing is changing, "Downton Abbey" and two programs that aired on cable networks Sunday — "The Walking Dead" on AMC (11.1 million) and the NBA All-Star Game on TNT (8 million) — had more viewers than anything on ABC, Fox and NBC that night. "60 Minutes," ''The Mentalist" and "Amazing Race" all had more than 9 million viewers for CBS on Sunday, the Nielsen company said.
CBS had 15 of the 20 most-watched shows on broadcast television last week, not an unusual showing for television's most dominant network. The network had one failure, though: the new reality show "The Job" was fired after only two episodes. Last week's episode had 3.3 million viewers.
---