Regis Philbin will host new show for Fox sports network
Philbin will host a new weekday sports talk show for the network. It will be Philbin's first new show since 'Live! With Regis and Kelly.'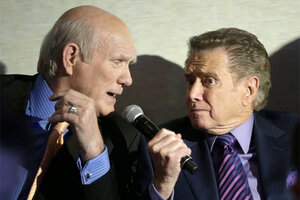 Seth Wenig/AP
Fox proved television was ready for a fourth major network, and Fox News took on CNN.
The company wants to remind everyone of its record as it challenges ESPN with Fox Sports 1, a 24-hour sports cable network set to launch Aug. 17.
"We're coming in trying to take on the establishment," Fox Sports executive vice president Bill Wanger said Tuesday in announcing the venture. "It's no different than Fox News or Fox Broadcasting back in the '80s. We're going to have to scratch and claw our way all the way to the top."
To do that, Fox executives are confident they have enough live events, with rights to college basketball and football, NASCAR, soccer and UFC fights. In its first year, the new network will broadcast nearly 5,000 hours of live competition and news.
Fox owns the rights to many Big 12, Pac-12 and Conference USA basketball and football games. Its soccer deals include UEFA Champions League and the men's and women's World Cups from 2015-22.
Starting in 2014, FS1 will start broadcasting Major League Baseball games, including part of the postseason. It will show some NASCAR Sprint Cup Series races as early as 2015, with other NASCAR events on the air from the start.
---