'Hannibal' is back in a new TV show
The TV series 'Hannibal' is based on only five pages of the 1981 book 'Red Dragon,' serving as a prequel to 'The Silence of the Lambs.' 'Hannibal' stars Mads Mikkelsen as Hannibal Lecter.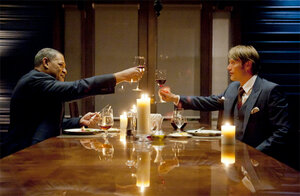 Brooke Palmer/NBC/AP
Hannibal Lecter, one of the world's creepiest fictional villains, is back, and this time he is not locked up but is a respected psychiatrist with an appetite for art, fine clothes, good food and red wine.
And he is hiding a very dark secret.
"Hannibal," which debuted on NBC on Thursday, is the first U.S. television series about the infamous cannibal created by Thomas Harris in his 1981 book "Red Dragon" and made famous by actor Anthony Hopkins in his Oscar-winning turn in "Silence of the Lambs."
After five Hannibal Lecter movies and four novels, the new TV series is based on just five early pages of "Red Dragon" and serves as a prequel to the entire Hannibal Lecter book and movie legend.
It combines solving a weekly, gory crime with the back story of Lecter and his early FBI nemesis, Will Graham.
"As somebody who had read the books and was really a student of Thomas Harris, I felt there were definitely aspects of the literature that had not been explored," creator and executive producer Bryan Fuller told Reuters.
"There was a great chapter of Hannibal Lecter's life that we haven't seen in any of the movies or any of the books. We have seen him incarcerated and as a young man, and I felt the most interesting part of his life was when he was a practicing psychiatrist and a practicing cannibal and who he was prior to incarceration," Fuller added.
---