Emmys 2013 are full of surprises, upsets
The Emmys ceremony included many upsets, including 'The Newsroom' actor Jeff Daniels taking home the Best Actor in a Drama prize. The Emmys were hosted by actor Neil Patrick Harris.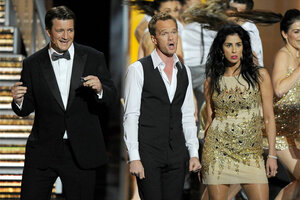 Chris Pizzello/Invision/AP
The Emmys lived up to its reputation as the least predictable entertainment awards show.
Television's annual night of honors, where the AMC drama "Breaking Bad" and ABC comedy "Modern Family" were judged the industry's finest on Sunday night, mixed in surprises with expected winners, and ended some winning streaks while extending others. Newcomer Netflix made its presence felt, but not in the splashy way it had hoped for.
"Nobody in America is winning their office pool," host Neil Patrick Harris said late in the CBS telecast from the Nokia Theatre in Los Angeles.
The best drama win for "Breaking Bad" was its first ever, and Anna Gunn won a best supporting actress award for playing the wife of Bryan Cranston's Walter White character, the chemistry teacher turned drug lord whom the series revolves around. Cranston was denied a bid for his fourth drama acting award for the show.
It was splendid publicity for "Breaking Bad," which airs its series finale next Sunday. "What a way to go out," Cranston said backstage.
"I'm biased, I love our show," added Vince Gilligan, the series' creator. "I was stunned that we won. It was a very big surprise for me."
---