For kids: Watch it – this art is on the move!
Kids (and grown-ups) love to nudge the 'cloud' balloons as they drift by at a moving art exhibit.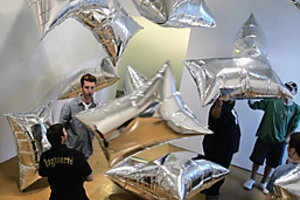 Keith Srakocic/AP
If you've been to an art museum, you were probably warned on your way through the door: "Just look. Don't touch!" Putting so much as a finger on a framed canvas is a no-no. But kids and adults who walk into an exhibit of Andy Warhol's "Silver Clouds" hear a different message.
"Go ahead and touch the clouds – push them around," Erika Myers-Bromwell told a young visitor to the New Harmony (Ind.) Gallery of Contemporary Art one day last November. Ms. Myers-Bromwell is assistant director of the museum, and she had also assured me that it was OK to touch the silver, cloud-shaped balloons. I could even bounce them off the walls if I liked. And the "clouds" could touch me, too, I learned, as I ducked out of the way of one floating toward me.
Andy Warhol, a "pop" artist of the 20th century, thought up the original Silver Clouds display as a kinetic (moving) art form in the 1960s. Billy Klüver, a Swedish electronics engineer, helped Warhol with the design. In those days, the clouds were made of "Scotchpak," a metallized plastic film used in food packaging. Today, the balloons are made of Mylar, another type of metallic plastic. The first exhibit of Silver Clouds appeared in New York City at the Leo Castelli Gallery, which is famous for showcasing contemporary art.
---