The winter way to enjoy raspberries
When fresh raspberries are out of season, there's still an easy way to satisfy a craving for the flavorful fruit.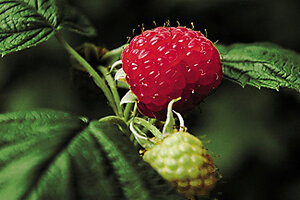 Gary Cichowski/The Chronicle (Centralia)/AP/File
On summer mornings, I used to eat my cereal outside. Holding my bowl in both hands, head tilted to one side, I walked carefully down the steps of our deck and out into the dewy Northwest morning to gather a few raspberries from the bushes in our backyard.
I tossed them on my cereal, and then sat down to slurp my breakfast with its now-pink milk.
Raspberries dramatically improved the kinds of box cereals my mom allowed us to have – dreary, sensible flakes that could use some flavor and color.
Raspberries taste the way magenta looks: tart, zingy, and bright. We ate them all summer long.
When raspberries were in season, our family would gather flats of them in pick-your-own berry fields. To preserve them for winter, my parents made raspberry jam. It was good, but nothing like a tangy, juicy, ripe berry.
My mother used to make a pie that used fresh raspberries. It consisted of a cooked pie shell, a thin layer of cream cheese, fresh berries, and a layer of raspberry glaze. This glaze tasted a lot like the jam that my parents used to make, but it wasn't as sweet.
We ate raspberry pie every day for dessert at the height of the season, until summer ended. Raspberries were too delicate to preserve, except as jam.
Then we bought a big freezer. This appliance stood in our basement, where it held lots of things. But the ones that interested me were the 10 raspberry pies my parents started making every summer to tide us over from September to June.
Every month, we solemnly defrosted a pie at room temperature, cut it into five pieces, and ate it for dessert. You didn't want to miss this meal, because no one in the family could be trusted to save your piece of pie for you.
Even today, I have proven unreliable at eating just one slice of raspberry pie. Or, you could say, I have proven very reliable at eating a whole raspberry pie by myself, if there's one in the house.
To meet my raspberry needs in a more dignified way, I considered buying fresh raspberries out of season, despite the price. But it seemed wrong – there should not be fresh berries in my bowl when cold winter rains are pouring down.
I tried buying bags of frozen raspberries and eating them plain. But that still wasn't right. Plain defrosted berries have a watery taste that makes me long for the fresh ones even more.
---