Short Stuff
News for kids – from the largest snake in captivity to how much chocolate Americans eat yearly.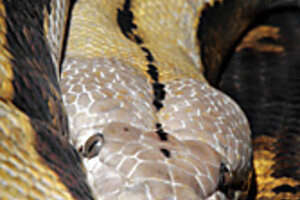 Tom Dodge/Columbus Dispatch/AP
Calling all candy lovers
Valentine's Day is coming up, and you know what that means: hearts, doilies, and, you hope, some chocolates and other sweets!
Did you know that the average American ate about 26 pounds of candy in 2006? (Let's hope it wasn't all at once!) And chocolate is king among all those treats.
Manufacturers of chocolate and cocoa products in the US shipped out about $14.9 billion worth of their wares in 2006. Production of nonchocolate confections was only a $6.2 billion industry during the same year. Will you give a sweet treat to anyone special this year?
Some snake
What's as long as a moving van, as big around as a telephone pole, and weighs more than 300 pounds? It's Fluffy, the largest snake in captivity!
Fluffy is a reticulated python that lives in Ohio's Columbus Zoo and Aquarium. She was born to a reptile breeder in Oklahoma, who loaned her to the zoo last year. But in January, the zoo bought Fluffy so it could keep her on display permanently.
The hulking snake is 24 feet long and dines on two 10-pound rabbits a week!
Reticulated pythons are native to Southeast Asia, where they catch mice and lizards for food when they are small. After they're grown, the snakes usually prey on larger animals, such as pigs and goats.
Chinese New Year
Can you name all holidays in February? Did you know that Chinese New Year falls on Feb. 7? It's a holiday that Chinese people all over the world celebrate to mark the first day of the first new moon of the lunar calendar. The celebration ends 14 days later, about the time that the new moon has become a full moon.
This year is called the Year of the Rat. The Chinese lunar calendar names years after 12 animals, which are then repeated in a cycle. Do you remember that 2007 was the Year of the Pig? Next year will be the Year of the Ox.
How do people celebrate Chinese New Year? Festivities include visiting relatives, wearing new clothing, and watching fireworks displays.
---