Lee Miller's lens on the 20th century
Renowned photographer Lee Miller was in the right places at the right time during World War II. She photographed London during the blitz, Normandy after D-Day, and the liberation of Dachau concentration camp.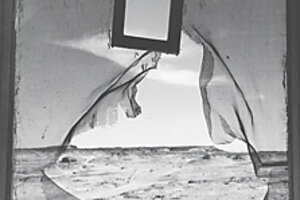 Philadelphia Museum of Art/Lee Miller Archives/AP
The legend of art and war photographer Lee Miller (1907-1977) perhaps began when Elizabeth Miller from Poughkeepsie, N.Y., chose to abbreviate her first name to Lee. Modern, informal, with a hint of panache, that name would help carry this daughter of an amateur photographer into the center of the 20th century's whirlwind of events – from which she would emerge as a key player and important artist.
Among the world's small cadre of renowned woman photographers, Lee Miller has become an icon and mythic figure of fascination for many. Her photographs are compelling, but her reputation transcends them, to a point where her life story has become inextricable from her art.
Now, Miller's life and work are being newly explored in an exhibition – "The Art of Lee Miller" – at the Philadelphia Museum of Art, honoring her centenary with a selection of more than 100 of her photographs. The impetus for the show, which originated in London, is Antony Penrose, Miller's son from her marriage to British Surrealist Roland Penrose.
Mr. Penrose, who spoke at the opening of the exhibit, said that his mother, who struggled with alcoholism during his childhood, almost never talked about her accomplishments as a photographer. When she died, he discovered boxes of her negatives and has devoted his life ever since to reestablishing her reputation as a photographer.
---