Earth-friendly school
Kids at Sidwell Friends School in Washington, D.C., love their new 'green' campus.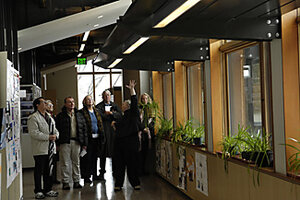 Andy Nelson - staff
What has light, fresh air, and is a great place to learn?
An ecofriendly middle school.
At Sidwell Friends Middle School in Washington, D.C., one of the newest teachers on campus this year is a building. From top to bottom it's energy efficient, environmentally friendly, and an inviting place to learn everything from science to singing.
It all started when the school needed more classroom space. Instead of tearing down the existing building, a construction crew brought in a bulldozer to clear out the interior, and an L-shaped addition went up beside it. The new, U-shaped building is filled with earth-friendly features, but the spacious rooms with huge windows are the first things you notice.
"The extra natural light in the classrooms really keeps you awake and enjoying the day," says Isabel Dorval, a ninth-grader at Sidwell.
Walkways made of what?
The architects chose natural, recycled, and renewable materials wherever possible. Most of these could be used with minimal impact on the environment. Doors were made with a veneer of bamboo (a fast-growing grass), bulletin boards with cork (which can be harvested without cutting down trees), and cabinets from wheatboard (which is made of wheat straw – the part of the plant that's left over after the grain is harvested).
Old materials were also reused in new ways. Bleachers from another school were used to make the window trim. Wood for walkways came from a pier in Baltimore. The "skin" on the outside of the building was made with wood from wine casks. The sun is turning the boards a beautiful silvery gray.
---