Essay: To garden – or not to garden?
How to know if you'll take up the trowel in 2008.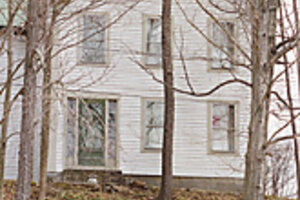 Michael Moore/The Keene Sentinel/AP/File
All of us who have gardens will have to decide soon if we are going to continue to be gardeners in 2008.
Because, as early April arrives, spring asks about our willingness to make the effort again. I think of my gardening attitude this time of year as push-me, pull-you – a mixture of pushing me away from having another garden and pulling me toward it.
By now, the failures of last summer are starting to fade from memory (that tends to pull you toward another year of gardening).
At the same time, there are still those late-August vows never again to take the trouble to water (push me), weed (push me), and struggle (push me) to do all the unglamorous things the gardening magazines and the senders of seed catalogs don't talk about. It would be easy in this push-me mood to let the deer, the muskrats, and the raccoons have their way.
I sometimes think, when I remember the frustration of planting hollyhocks three times in one summer and twice having the young plants eaten by deer, that I might perhaps turn to tennis, hiking, or some other less heartbreaking hobby. That's heavyweight push-me thinking.
The pessimism passes when I recall using large tin cans to protect the third hollyhock planting – and the wonder of the first tall blooms. That's what pulls you back to gardening. And yet ... there is the nagging push-me thought each spring, when the hollyhocks become vulnerable as they grow taller than the cans.
This kind of back and forth goes on for weeks. It's certainly true that in gardening – unlike, perhaps, in other areas of our lives – we will all know more in the coming year. And you cannot learn that new knowledge without doing the work and suffering some disappointments.
The trick is to focus more on the pull-you aspects of gardening than on push-me ones. In that regard, I've asked a baker's dozen of questions that can be used to clear last year off the books and make 2008 a year of promise, not pessimism.
You will know if you are going to be a gardener in the coming year if you can answer yes to six or more questions. There is no need to tell you my answers, since what I did is revealed in the questions:
1. Did you fail with a flower you love – fail utterly, miserably, devastatingly, tragically, beyond a shadow of a doubt, and with not even a glimmer of a silver lining (unless composting can be seen as a silver lining)? And have you vowed (to show the depth of your love) to try again with that flower in 2008?
---